Yesterday I received two lovely copies of the new children's book "The Skydiving Beavers" by Susan Wood. It's going to be released on "International Beaver Day" April 7. I agreed to do a short interview with Susan for the release but I can proudly include them for our silent auction now.
Regular readers of this website know I braced myself for the story because Idaho's great beaver fling is not my favorite
beaver tale. But this book does an excellent job of introducing the thoughtful fish and game official, Elmo Heter, who came up with that crazy scheme. He remembered all that left over parachute silk from WWII and invented the box that would open on impact. Then ran several trials with a plucky beaver named 'Geranimo" to make sure it worked.
Time for some lovely donations to the silent auction. This week's treasures come from Litographs in Cambridge Massachus
etts. They are a remarkable business I happen to love because they turn favorite literature into wearable art. Literally. The entire text of a beloved book becomes a shirt, card, poster, tote or scarf. Catcher in the Rye, Scarlet Letter, Jane Eyre, Hamlet, The Princess Bride, classic or contemporary.
"We founded Litographs because we had a vision of bringing our favorite literature off the page, onto your walls, and into your wardrobe. We believe in sharing the power of books with more people."
This is the entire text of Herman Melville's "Moby Dick" which they generously gave beautifully matted and ready for framing.
Long ago I had a conversation with owner Danny Fein about possibly working with the now-public-domain text "In Beaver World" by Enos Mills. While he wasn't sure this was a project they would tackle any time soon, he personally made this for our event. Look closely because that is the entire book. Thank you Danny and friends at Litographs! For this beautiful addition to our silent auction.
Yesterday three bright and beautiful copies of MIT professor Penny Chisholm's book on the water cycle arrived for the silent auction. She included a note thanking us for saving beavers! They are so brilliantly colored and so well told that they're sure to be a hit with the parents and children there. Your very smart grandchildren might deserve a copy now, so go here to get your own. Thank you SO much for your help Dr. Chisholm.

Next came a present all the way from Rhode Island, where artist Carrie Wagner of Sepialepus donated a truly breathtaking and whimsical map of our golden state. I had originally seen her map of New York which included beavers, and asked her to think about donating. When she enthusiastically agreed she told me that she used to live in San Francisco and knew just where to add the beavers to her California map. Then she sent this, which is large, beautifully detailed and glorious. I'm including a closeup of the beavers so you can appreciate them fully.

This week the first donation was two sets of very beautiful
note and holiday cards from Crane CreekGraphics in Wilson Wyoming. This was painted by artist and owner of the company, Wendy Morgan, who grew up and lives surrounded by nature. It's a lovely glimpse of the beaver's other, watery world.
They donated a set of notecards and a set of holiday cards with the
beaver carrying a festive garland. Thanks Wendy for sharing your art with us!
Next on the list is the very engaging artwork of Indiana artist Ethan Burnsides Yazel. You will spot right away why I asked him for this print, but he delighted me more by including several others as well, including a raccoon stitching and a mouse gardening!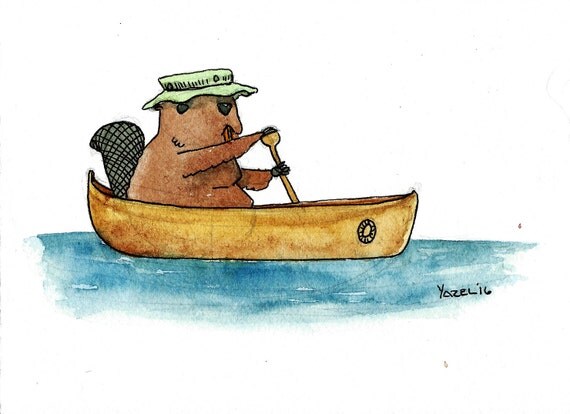 Go visit his shop on Etsy BursidesManor, for a collection that is intelligent, whimsical, sometimes grim. Always with rich color and detail. Thanks Ethan for your contribution to the beaver festival!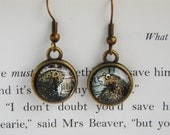 Finally, a tiny offering that came a long way. These charming drop earrings showing Mr. and Mrs. Beaver of C.S. Lewis' Narnia were made by Jane E. Wells in Kent, England from her favorite childhood novel. Literally FROM the novel, as they come on a backing of the text as well. This blending of story, art, and jewelry conjures textured images from the past woven with a bright, inclusive future. Go see all her designs at her Etsy Shop Prairie Moon Crafts. And thank you Jane!
---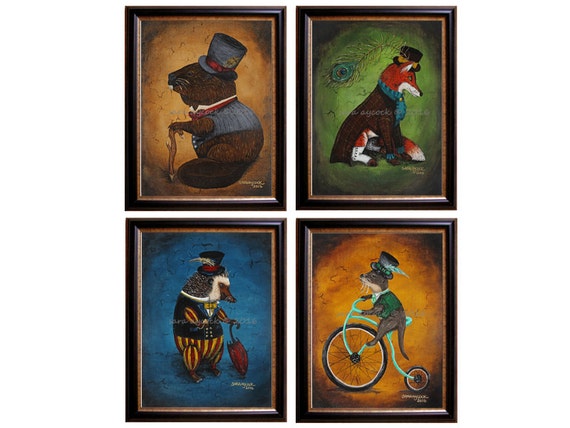 The third thing I want to share is the AMAZING donation we received from artist Sara Aycock. She's a very clever woman in Boise Idaho with a book coming out next fall. I fell in love with her "Victorian Animals" series and she was crazy generous sendng 5 beautifully framed giclee prints that will completely knock your socks off. Each print comes with a framed character description as well. I'm partial of course to Mr. Beaverton. You need to go right now to her etsy store and support this kind of generosity and talent, because something tells me there will be a line waiting to bid on these delightful items at the auction.
---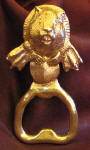 Let's leave that silly article behind us and talk about Sunday gifts, shall we? Just in time for their pub crawl story there was a generous donation from a delightful shop called "Cast of Characters" out of Portland Oregon. The artist (Mary Ann Dabritz) does brass creations of animals as door knockers, drawer pulls, etc. And she very kindly sent us this beaver bottle opener which I know will be in a bidding war of its own. You should go peruse her shop and see the wonders! Thank you Mary Ann.
Back in December I told you about the very special tile I received as a present showing a beaver on a lodge and a couple canoeing. It was made by the very impressive Natalie Blake Studios who do textured stunning Wall Art. Their are hired to do museums and public spaces and their backsplashes and pottery are breathtaking. I wrote them how much I loved the piece and the woman who made it (Cynthia, the second from the left in this photo) actually wrote back.
The studio is in Vermont. And she said how her 5 year old son loved beavers, how in preparing herself for making my tile, she went on a beaver trek with Patti Smith (author of The Beavers of Popple's Pond) and actually met the old blind beaver Willow and fed her apples.
Is everyone in Vermont wonderful? This seemed like a sign that I should inquire about a possible donation. It was a long shot, since their tiles are much in demand and expensive to ship. But her son loved beavers, so it was worth a shot. After a little discussion they sent me a lovely 8×8 botanical tile. Honestly the photo doesn't do it justice. The surface is textured and rippled, and demands to be touched. You will have to come see it yourself. This is very similar to the grouping shown on the left which sells for over 1000 dollars. Here is the tile. It's only flaw is that it pairs beautifully with the one I was given, which means I might need to bid on it myself.
---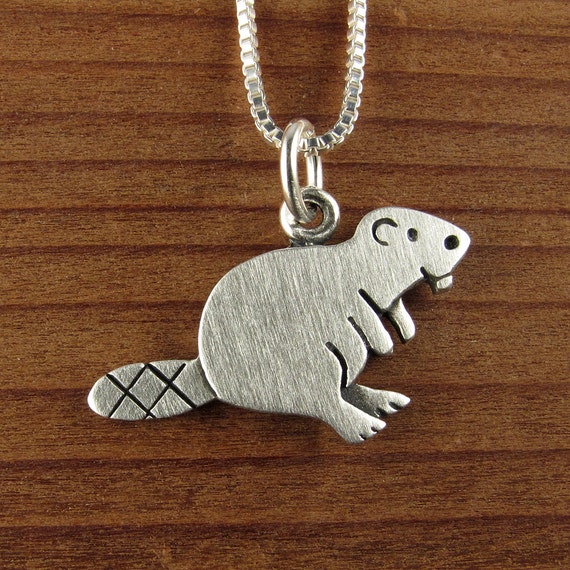 This week's mail delivered a bevvy of beaver bounty for the silent auction. Starting with an adorable sterling silver beaver necklace from "Stickman Jewelry" in Montreal, Canada. The charm itself is even cuter because it is so tiny. I anticipate rabid bidding on this cherishable trinket so start saving your pennies now.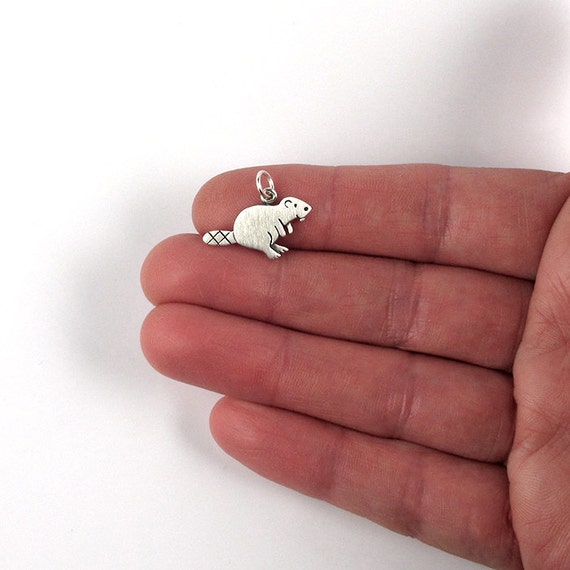 The other glories came from artist Deborah Hocking in
Portland. I didn't even realize she was the brilliant artist behind the children's book "Build beaver build." I just really, really liked this print she was selling on etsy.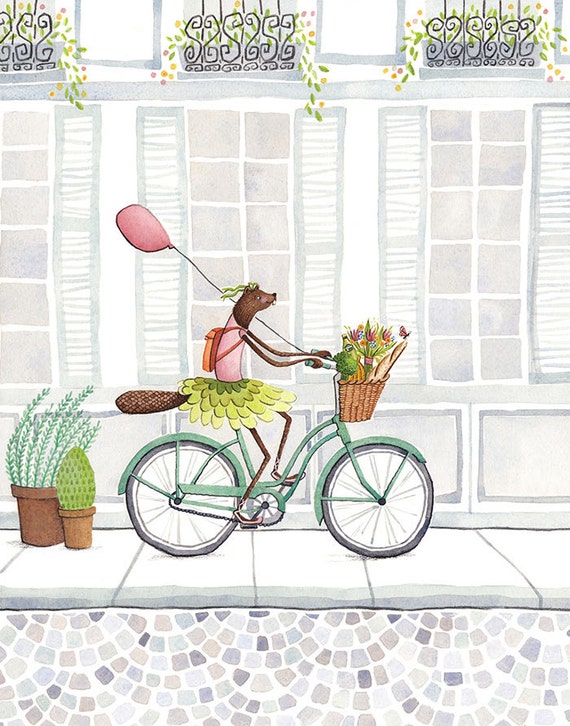 I wrote her about the beaver bicycle Bob Rust made for our festival and she was immediately hooked. She ended up donating 8 prints and a copy of her book! She might even design something for the festival! Sometimes the best part of asking isn't the things you get, but remembering that there are like minds all over the globe.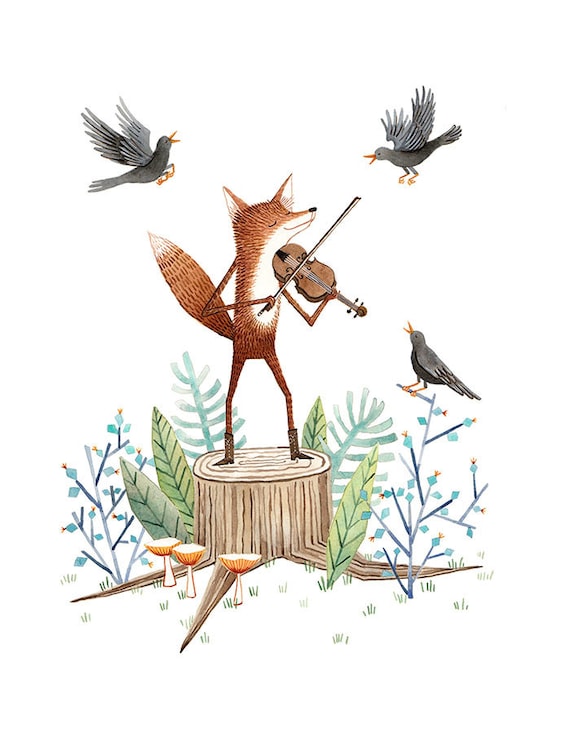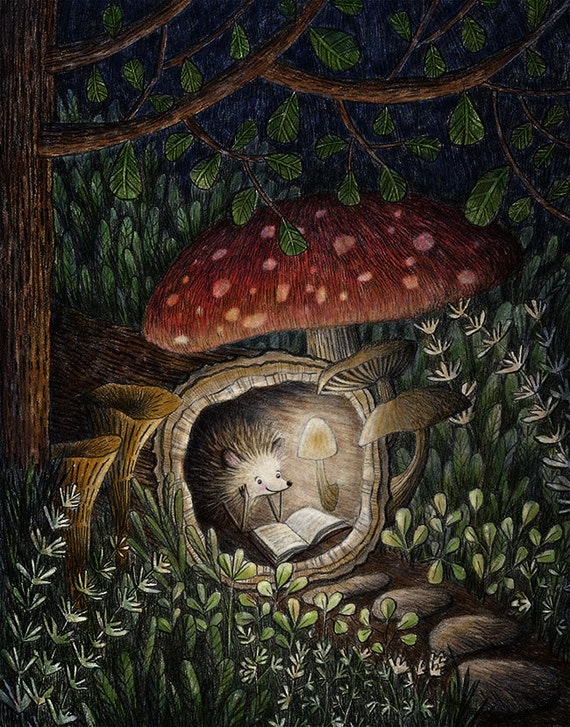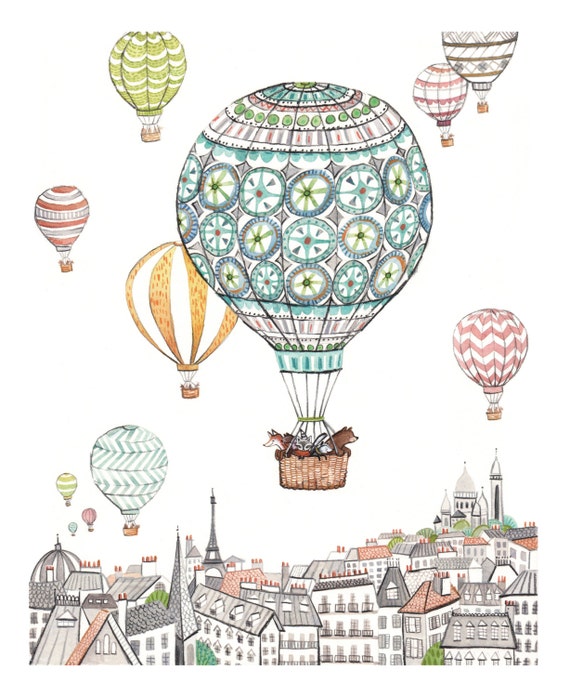 ---
Steve Sierigk at Acorn Designs in New York was the one who told me about beavers eating the woodland mushrooms on his farm.
Acorn Designs has been creating eco-friendly paper products as notecards, journals, and stationery since 1981. We remain dedicated to finding the greenest papers available and combine that with the highest quality art and stories to present you with a great product with environmental integrity. All of our products are sourced and manufactured in the US; mostly within very close proximity to our Finger Lakes, NY studio.
He donated journals and notecards with this inspiring design. Take a number if you are planning to bid on this, (preferably a number higher than mine!) This seems like the perfect place to take notes at a beaver conference!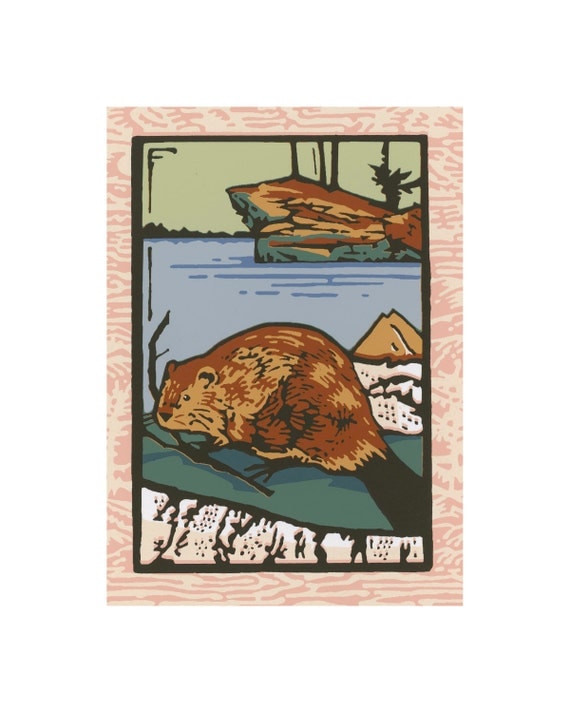 A second generous donation came from artist Suzanne LeGault of GalleryVermont. This is a finished screen, mounted on foam core and ready for framing. The colors are so vibrant in person you will have to see to believe.
"Beaver" is an original 9-color screen print from a limited edition of 33. It is not a digital reproduction. Each print is hand pulled, numbered and signed. If you run your hand across the surface, you will feel the layers of ink.
Screen printing is a stencil technique in which thick ink is forced through porous fabric that has been stretched over a frame. The image is created by applying layer upon layer of ink onto a piece of paper with a squeegee. Each color requires a separate stencil. I use oil based ink and 100% rag paper. The print measures 5″ x 7″ and comes matted. With the mat, it measures 8″ x 10″ so it fits into a standard photo frame making framing very affordable.