The agenda is out for the State of the Beaver Conference 2015 and it looks amazing. Starting with the Keynote speaker Lixing Sun, the co-author of the most famous beaver book yet written. (Books really, because it's so popular there's a second edition.)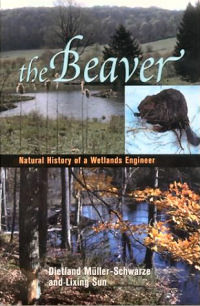 Now maybe you're thinking"why should I care" or "I hate Oregon in February" and "I don't need to hear the latest beaver research". But if you were thinking that you'd be thinking wrong. I'm going to assume that whoever you are you drink water, live on a rapidly heating planet, and are a citizen of a government with limited resources for fixing those things. The world needs beavers, and the only way it's going to get them is if people like you stand up and teach people why they matter and how to live with them. This conference will make you better at that and you'll hear from great minds like,
Instream Salmon habitat restoration and unintended benefits for west side beavers Robert Nichols, USDA Forest Service Fish Biologist
NWRC Beaver Research Update: From the Beaver State to the Heart of Dixie Ph.D. Jimmy Taylor,National Wildlife Research Center
Mathematical Ecologist, NOAA Northwest Fisheries Science Center Ph.D. Chris Jordan
Flow Devices – Controlling Beaver Dam Flooding, and Facilitating Salmon Passage Michael Callahan, Beaver Solutions Inc
Beaver Restoration in Urban Creeks Ph.D. Heidi Perryman, Worth a Dam, Martinez Beavers
 Not to mention that it looks like this morning I just managed to get Derek Gow from Cornwall on the schedule. So you'll be personally updated on the most famous beavers in the world. As well as a watershed-beaver introduction by this persuasive gentleman:
.
The conference is truly one-of-a-kind, inexpensive, and ecologically  invaluable. The hotel is nice and beaver friendly, the casino thinks beavers are good luck, and you will meet amazing people that will become amazing friends. Register here and I'll see you in Canyonville!
Now there is lots more to say, including beavers being threatened in BWW's home town, (if you can believe it) and moderately good news from DEFRA about the Devon beavers. but I wrote this post this morning at 7am, worked on the graphics for leonard and promptly  lost it the entire column in the ether so had to do EVERYTHING again.
This beaver reporter needs a break.