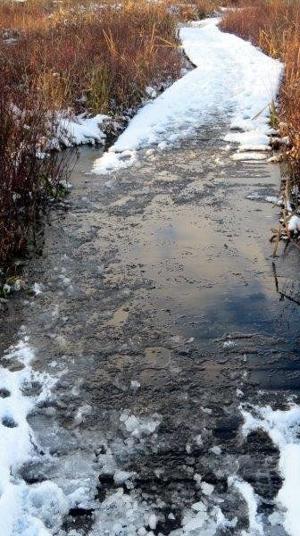 The problem is not with the walkway sinking into the muck, said George Saluto, a former Conservation Commission member who was the driving force behind the SwampWalk.
Instead, beaver activity, a surge of rainfall and a stretch of boardwalk built slightly lower than the rest of the lumber pathway has led to its being submerged
Two families of beavers have been building dams and blocking culverts and outflows, raising the level of the swamp, Saluto said. The southern section of the walkway was built, he added, when the area was not getting a lot of rain.
 "We are off on a new adventure," Saluto said. "We are simply responding to a very productive — two very productive — families of beavers.
Well, there you have it. Yet another beaver bemoaning story out of Danvers MA, who brought us so many greatest hits this year, like the beaver they trapped but weren't allowed to remove, and the huge developer who wanted everything but the beavers.
Now beavers (and rain and snow) are raising the water level and flooding parts of their swamp path. I guess they have two lodges so they're sure its two families, although that would be very, very remarkable. Research tells us that different families need their own territory of at least 2 miles, but if the habitat's very very rich, like those beavers in the far reaches of Canada who built the dam visible from space, they will share.
Gee, do you think this is extraordinary habitat? Or do you think they possibly got it wrong?
It took 10 years to plan, three years to build, and the collaboration of two towns. The walkway allows visitors to walk into the middle of the swamp, providing views of plants, birds, turtles and beaver dams that can't be seen from the rail trail. There's an observation deck with seating, too. A grand opening was held in May 2013.
When volunteers first started the northern section of the SwampWalk in 2010, the rainfall in March, April and May was 20 inches, Saluto said. Before the group started the southern section in 2012, the rainfall in February, March and April was 7 inches.
In the past three months, however — even before this week's rainfall — Danvers received 13 inches of rain, Saluto said, 6 more than when the southern walkway was constructed. The southern section was built slightly lower than the northern section.
Instead of trying to install beaver deceivers, devices that allow water to flow through beaver dams and keep beavers at bay, the SwampWalk team has decided to raise the walkway's elevation.
Well that's interesting. I mean why protect the culverts when you have the money to rebuild the entire walkway? Why fix a flat when you can afford a whole new car? I would ask what they plan to do when the water level rises higher still, maybe because of the next 13 inches of rain or the beaver dam that blocks the culvert, but I won't bother. I know what they'll do. They'll say "We tried a 6000 solution to save the beavers but that didn't work, so we're going to have to kill them." Let's mark our calendars. I think it will happen sometime in April 2015.
Got any spare change? They end the article with a request for donations.
Now we head west a bit across the United States for a story about beaver from Illinois, the state where the 84 year old man was hit in the head with a log after blowing up a beaver dam. IL  has never been a hot bed of progressive beaver understanding. I believe I once said of them
"Remember this is Illinois where a cynical person might say you could fit all their beaver appreciation and knowledge into a teaspoon and still have room leftover to sweeten your coffee"
So it's nice to read at least a benevolent article about beaver from the state.
Not long ago, I was set for a nice long hike in a nearby park to work off stresses. I had my binoculars, camera, and a little snack to enjoy along the way.
At the trailhead is a small creek that runs underneath a rock outcropping. No sooner had I entered the trail, when I observed a newly-constructed beaver dam on the creek. I paused to take a look at it. This led to following a few of the "beaver runs" away from the stream to the trees they gnawed.
 I thought to myself that I should take a few pictures of the beaver dam, runs, and gnawed trees to go into the Lowell Park Nature Center. We have a beaver lodge there for children to explore. I thought I might construct a photo montage of beaver activity.
The article goes on to describe his watching deer and woodpeckers. What do you wanna bet that the next time he visits that beaver pond he'll see more wildlife? If it's still there he will.