The inside of a beaver lodge has captured the fancies of folks from Lewis Carol to Ian Timothy! I have been interested in art describing this because we're thinking about doing some over/under art for our activity this festival. I thought I would show you some of my favorites so far.
Greg Newbold is an illustrator in Salt Lake City Utah who created this wonderful glimpse of the inside of a beaver lodge.  The colors are amazing, but even his sketch
for the finished piece is pretty great. I particularly like the adorable young inhabitants inside. On his website "Life needs Art" he says about this,
I just finished up this one for an educational publisher. It's fun to dig into details on something like this and create a feeling of reality even though this view is impossible to see in nature. I enjoyed the challenge of making the submerged portion of the beaver abode look like it was underwater which I achieved by shifting colors and values to reflect the effects of the water. Once again this is rendered in Photoshop over a graphite drawing. Size is 16″ x 11″ at 400 dpi. This one will print in the student edition as well as an oversize teacher edition to be used in group reading.
Fantastic job, Greg.  I love watching the family members swim home. Let's just hope the book says in HUGE red LETTERS This is NOT a beaver dam. Because some people really need help telling them apart, apparently.
I did find a couple illustrations that shows the lodge, the dam, and the important food cache. This is from Miles Kelly publishing.
Or this nice peek from M.H. Peterson, although I'm not sure what that hole is at the base of the lodge. A place to turn around?
And that fun one in the snow from the Adirondack book I posted earlier this week by Mike Storey:
And of course there are a few fanciful ones that just grab our imagination. I came across this last year from an illustrator who's name escapes me. I know it was a  female and I didn't find it with the usual suspects looking for 'interiors' or 'inside' lodge. I will keep trying, because she deserves credit for this wonderful work. Aren't the colors lovely?
I came across this yesterday and fell in love all over again. It is a watercolor by artist Jodi Lynn Burton of Detroit Michigan.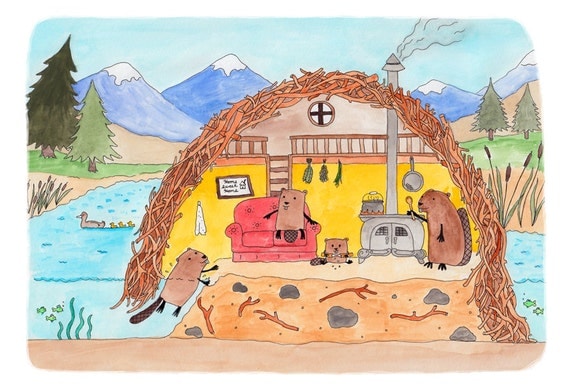 Get ready for some awesome inside artwork this summer I think!