This is a magical article from Michael Runtz of canada speaking about his recent visit to an Algonquin beaver pond.
It was a cool and misty predawn when I arrived at Algonquin Park's Argue Lake. Soon I was watching a large Beaver groom itself atop a feeding bed a mere 30 feet away. It was too dark for photographs but I was content just to watch.
Suddenly the silence was broken by the howls of wolves, emanating somewhere near the far end of the lake. I waited a few minutes after the magnificent chorus ended, and then I howled. The pack replied immediately.
I wanted to wait until sunrise before looking for the wolves. Half an hour passed and then dawn broke.
I quietly paddled my canoe to the far end of the lake, still shrouded with mist. Once there, I scanned nearby slopes for wolves, but saw none. I howled from my canoe and soon the wolves replied, but to the east.
With adrenalin coursing through my body, I watched to see if one might make an appearance. Excitement peaked when two dark forms scrambled down a nearby hill. But the animals were black, and Eastern Wolves are rarely that colour.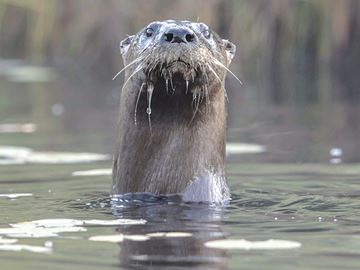 A Beaver slapped its tail, informing me that the dark animals had entered its space. Moments later, four Otters came snorting and huffing past my canoe, sticking their heads out of the water like giant periscopes to get a better view of me.
Half an hour passed and no wolves, so I paddled back to my car. I then struck out on foot, following an old logging road that ran parallel to the lake. I walked slowly and quietly, stepping on moss whenever possible.
After a while I left the road and bushwhacked eastward, moving slowly and avoiding stepping on sticks.
Eventually I came to a large pond. After several minutes of scanning, I spotted the head of a large wolf sticking out from Bracken across the pond from me. It stared in my direction, but I was hidden.
I howled, and it stood up and walked into full view. It howled back and began to bark, an indication that it was the pack's dominant leader telling the intruding wolf to leave their territory. I barked back, and the wolf responded even more aggressively. After several minutes of exchanging vocal affr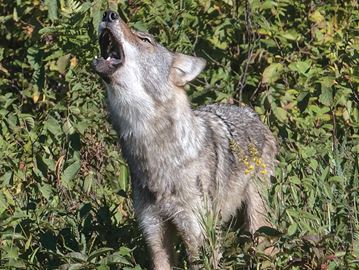 onts, the beautiful animal walked away, content that the impudent intruder was not going to cross the pond.
It has been 26 years since I last had a chance (unsuccessful) to photograph a howling wolf. Thus, I was ecstatic to finally achieve a long-standing goal.
I was also delighted over my encounter with Otters, plus getting a picture-perfect shot of a Ring-necked Duck taking off in the mist. I pinched myself to make sure I wasn't dreaming; it was indeed a morning when Nature revealed herself wonderfully to me.
Ahhh we've enjoyed many a magic morning at our beaver pond, though we never got to see wolves. I am sure Mr. Runtz sleep-clock is broken too, and we probably both wake up at 5 even  when we aren't planning too. The very first beaver I ever saw was  from the front seat of this canoe where I spent many a magic morning over the past 25 years. Fate and my cerebellum have decided I don't get to enjoy the quiet paddle anymore so you can imagine how happy I am at this arrival to my porch, under which I will be able to enjoy magic mornings on forever more.
Save
Save
Save