I guess USDA finally got the memo! Even though they chose to bury this story in their blog, I'm pretty excited. Just look:
The Methow Beaver Project is a bit uncommon as far as forest health
restoration projects go, because it relies on one of nature's greatest engineers – the beaver.
Beavers build dams on river
s and streams, and build homes ("lodges") in the resulting bodies of still, deep water to protect against predators. Beavers play an important ecological role, because the reservoirs of water that beaver dams create also increase riparian habitat, reduce stream temperatures, restore stream complexity, capture sediment, and store millions of gallons of water underground in wetland 'sponges' that surround beaver colonies. This benefits the many fish, birds, amphibians, plants and people that make up the entire ecosystem.
Across the country today, there are fewer beavers than there used to be because their fur was very desirable to early American settlers and many landowners considered them to be a pest that damaged the landscape. As beavers were eradicated, the once complex wetlands that they helped to create disappeared as well.
 Recently, low snowpack in the Cascade Mountains has resulted in less meltwater flowing through streams throughout the spring, summer and fall on the Methow Valley Ranger District of the Okanogan-Wenatchee National Forest in north central Washington State. The low water levels have negatively affected habitat for salmon, trout, frogs, eagles and many other species. Over the next 20 to 30 years, dramatically less snowpack is predicted.
 That's why U.S. Forest Service biologists like Kent Woodruff are working to reintroduce beavers to forest streams where they used to be common. Beavers can help make such ecosystems more resilient to future changes in climate by restoring ecological function. Not only do beaver dams increase water storage on the landscape, they improve water quality by reducing stream temperatures, increasing nutrient availability in streams, and increasing stream function by reconnecting floodplains.
Recently, the Western Division of the American Fisheries Society recognized the Methow Beaver Project, awarding it the Riparian Challenge Award for 2015. This award recognizes and encourages excellence in riparian and watershed habitat management, and celebrates the accomplishments of the project's many partners, including its beaver engineers!
 "We're solving important problems one stick at a time," Woodruff said.
And on the weighty day when USDA pinched their nostrils closed and  forced themselves to mention the positive truth about beavers, Kent was standing there in uniform to ease the pain. A USFS biologist himself, Kent's project carries the respectability that not even USDA can ignore forever. With so many partners and supporters the Methow project is guaranteed to make a difference, and Kent has worked hard to see that it will thrive long after he retires.  It is remarkable, that even though Methow has been doing this work a long, long, LONG time, USDA is just starting to get the message.
Better late than never, I always say.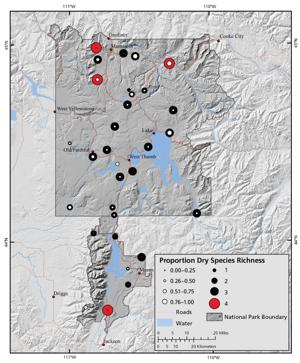 New research by the U.S. Geological Survey suggests that the effect beavers have on the environment may stem the decline of amphibians in places such as Grand Teton National Park.
 The decade-long study found startling declines of amphibians in Colorado's Rocky Mountain National Park and more gradual declines in Grand Teton and Yellowstone parks. It determined that further north in Glacier National Park the metamorphosing critters are faring better. Headed by Blake Hossack of the USGS, the research also determined that beavers create wet habitats that act as a hedge against declines in amphibians, which depend on water in their early life stages.
"Although beaver were uncommon, their creation or modification of wetlands was associated with higher colonization rates for four of five amphibian species, producing a 34 percent increase in occupancy in beaver-influenced wetlands compared to wetlands without beaver influence," the study said. It was published recently in the journal Biological Conservation.
 "Also, colonization rates and occupancy of boreal toads and Columbia spotted frogs were greater than two times higher in beaver-influenced wetlands," the study said. "These strong relationships suggest management for beaver that fosters amphibian recovery could counter declines in some areas."
 The USGS, New Mexico State University, Northern Rockies Conservation Cooperative and the National Park Service all collaborated on the study.
The influence of beavers is on display along Moose-Wilson Road in Grand Teton park, upstream of where the beaver pond borders the road, Patla said. During the study, she said, the aquatic rodents colonized a new area to the north.
 "The beavers started moving upstream from there and making dams and they flooded a huge area," Patla said.
Previously the habitat in the area consisted of "ancient" beaver ponds that had dried out and wasn't great amphibian habitat.
 After the beavers recolonized, "all four species were present and toads suddenly appeared for the first time," Patla said. "Adults laid their eggs and rapidly colonized that area.
Whoa! You're kidding me! You mean the actions of the "water-savers" actually benefited multiple species of "water-users"? That must come as a real surprise, since I'm sure you were taught in school that beavers were icky. And in California we've killed them for destroying frog habitat by "ruining vernal ponds." And if you doubt it you should reread my column about it from 2012, back when I used to write fairly clever things.
Honestly I thought the ship of "Beavers help frogs" had sailed and was already in the general lexicon. But I forgot the need to repeat research to prove that results apply regionally. No word yet on when they'll be releasing the papers on "Gravity still applies in Wyoming" or "Researchers confirm water tends to flow down hill in Jackson Hole, too."
Sheesh.
I shouldn't complain. USDA, USFS, USGS all in one day proclaiming beaver benefits. That's got to be some kind of acronym milestone. I sure wish their was a department of Beaver Benefits. Maybe USBB?
Here's some eye candy to start the weekend right. First kit filmed in the Scottish Beaver Trials this year.