Yesterday was the Pinole Rotary event. They gave us a tasty lunch at Pear Street Bistro while I talked Martinez beavers to them and tried to prepare them for the inevitable beaver visit coming their way. They were very positive and receptive, so I'm hopeful that solutions will cross their minds when beavers tentatively set their paws in Pinole Creek. One cheerful listener even sang the beaver fight song from his alma mater.
Then I came home and found out that Queequeg wears a beaver hat!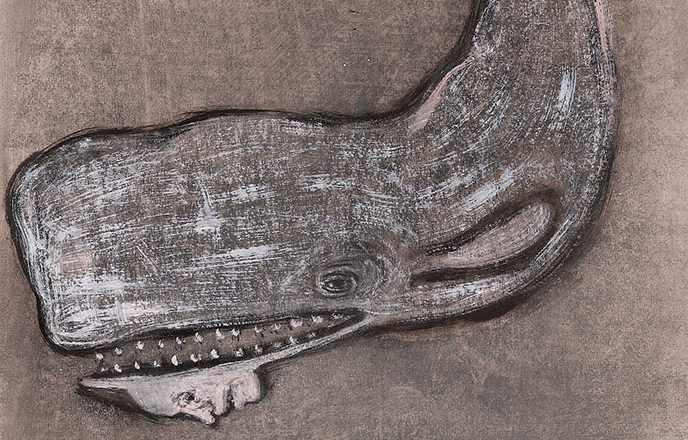 Allow me to explain. My youthful self did lots of reading things like Shakespeare and Dostoyevsky, but I never got around to reading more American classics like that famous impossible quest tale of Moby Dick.  Probably because whaling was 'icky' or some other such reason.
Just by chance on facebook the other day I noticed that they had just finished the complete audio of Melvil's seminal work, with every chapter read in its entirety by people like Stephen Fry and Tilda Swinton, so I thought, that would be a fun way to fill the gap, and tried it out.
I'm up to chapter for when the narrator unwillingly finds himself sharing a bed at the Spouter Inn with a terrifying painted 'savage' who turns out to be not so scary. This is Queequeg, a Mowry kind of tattoed harpoonist who has earned enough at sea to have a few prized civilized possessions. Chief among them is his BEAVER HAT which in the morning he puts on first, long before his actual pants, to show he is fully committed to American life.
Now Moby Dick was written in 1851, when the fur trade had begun to tank. The beaver hat was out of fashion in Europe, and the silk hat was becoming all the rage. Perfect timing because they had killed all the beavers everywhere in Europe centuries ago, and now even Canada and America (including California, the last hold out). Silk ascended, or was adopted, just in time. The same way in which you pretend you like something better when you know you're never getting the original back. Queequeg proudly wears his top hat in the same way that we might proudly display a rotary phone or one of those a deep square TV sets. Progress has moved on. Even when he catches on he's already behind.

In case you want to enjoy your own rediscovery, the chapters are here: