Wales is inviting public comment before it makes a decision about whether or not to reintroduce beavers. I wonder what people will say? Ooh! I know! Call on me!
Members of the public will be asked to have their say on plans to reintroduce beavers into the Welsh countryside. Depending on the level of response and issues raised, a final decision could come before the end of the year.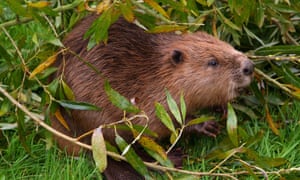 Supporters of the plan believe they will bring environmental and economic benefits, but others remain unconvinced. Beavers were once native to Britain but were hunted to extinction for their fur in the Middle Ages.
The animal has been reintroduced into and in recent years and Natural Resources Wales (NRW) is currently considering an application for a licence to release ten pairs of beavers into the River Cowyn in Carmarthenshire.
The application has been submitted by Wildlife Trusts Wales and the Carmarthenshire-based Bevis Trust, which has three families of beavers penned on its land ready to be released.
Bevis Trust founder Nick Fox believes the experience of beaver reintroduction elsewhere proves that the animals will bring big benefits to the Welsh countryside.
He told Radio Wales' programme: "Beavers have a key role to play in the ecosystem. They build dams in the slower-flowing small rivers – not in big rivers – and those dams act as natural filters for pollutants and sediment."
Alicia Leow-Dy
ke, who oversees the Welsh Beaver Project for Wildlife Trusts Wales, argued beavers would help improve biodiversity.
"Many studies have shown that where you have beavers you have a much richer biodiversity, you have a mosaic of different habitats – and that's possibly something we have lost in the United Kingdom," she added.
Dam straight they do! Of course Wales should reintroduce beavers, although I'm going to predict that it won't matter if you decide to or not, because they will find you all on their own.
This moss guy worries me. I get worried when lies are repeated over and over again without any change. Usually the liar gets called out and reshapes his lie a little. 'I know beavers don't eat moss but I'm worries about the wildlife that depends on it" or some such alteration. This is blatant unrefined lying over several months. I call it gansta'.
That is a concern for botanist Ray Woods, who has visited the River Otter in Devon where under licence.
"I asked the question, "What are they eating" and they just said, "Sorry Ray, we don't know". What's been the impact on all these masses of mosses and liverworts and lichens that are absolutely bang full of useful pharmaceuticals?"
I've said before and I'll say again, there is NO EARTHLY WAY that Ray ever asked anyone involved with the beavers in Devon what they eat and got the response "We don't know!" for an answer. Unless he asked a gas station attendant or a delivery man.The beavers in Devon are some of the best observed, best studied, best researched any where in the world. There is no way they have not counted every blade of grass or sapling the beavers have nibbled.
I hate to get all biblical on you but I can't resist Luke 12:24
Consider the ravens: for they neither sow nor reap; which neither have storehouse nor barn; and God feedeth them: how much more are ye better than the fowls?

It just so happens, Ray, that beavers are WAY more responsible than ravens. They both reap and sow, in a manner of speaking. In fact sometimes. In fact beavers are sometimes called "Willow farmers" because as streams get wetter and more complex willow or aspen appears in more places.
More beavers means more trees.
And more trees means MORE lichens and mosses.
Not less.
Sheesh! Get a new lie, will you?
---
Bob Kobres of Georgia wrote yesterday that he misses the left margin and he disliked the loading diamonds. I don't have power over margins but VOILA! The diamonds are gone! And about those share buttons, if you click on the post they appear at the bottom of the page. OR if you use the share buttons at the top they will post this very column.
And check out the ID hint menu. It's fun. We're finding our way in the new world.
Please follow and like us: