Things are starting to take on a pre-conference craziness. I dreamed last night our beavers were living between two Killer whales at Marine World and I hired Skip to come build some kind of protection for them. When I woke up he had just told me he needed a permit to start work and I was worried how I was going to approach the city without letting them know the beavers had come back.
This morning I got an email from Paul and Louise Ramsay that they were passing near Martinez on the way to Canyonville and they'd love to visit. In addition I got an email from Gerhard Schwab of Germany that he and Duncan Haley were planning a trip after the conference and they'd love to see Martinez and our stomping grounds.
Apparently we're a beaver flop house.
I suppose things could will get weirder the closer we get too departure. I am already so sure of a snowy drive that we have stooped to trading cars with my mother for the week. (Subaru vs. Prius) We'll be right on the Umpqua river in
nearby Tiller so I'm hoping we won't be flooded or snowed out!  Hopefully, all will be worth it when the vast mysteries of beavers unfold before our eyes and ears at the conference.
In the meantime there are beaver tidbits too grand to pass up on the menu. First from Tallahassee FLORIDA where it never never ceases to amaze me that beavers and alligators are neighbors.
Drivers should take caution as construction along Orange Avenue may pose danger for otters and beavers in the waterway underneath the road.
Animals attempt to cross the street to get to the other side of the creek, but due to a cement barricade blocking the area where they try to go around, they get run over by passing cars, said Melissa Ward, a local resident who first saw a beaver dead near the construction site three weeks ago. A week later, an otter met a similar fate. Ward said her mother has seen eight beavers dead in the past few weeks.
As if we needed ANOTHER reason to hate those cement barricades in the middle of busy streets. What on earth are animals supposed to do when they run into one of those? Just jump really high? I realize running into one is probably dimly better than running into a car going the opposite direction, but I'd much rather run into something soft and let wildlife cross safely. Jon was once saved very nicely by all that bottle-brush they tore out to replace with concrete.
A few fun items, one from the Saranac Lake Winter Carnival parade this weekend in New York.

The Canoodlers, who wear old-fashioned orange life preservers and do dance routines with wooden canoe paddles, dress as beavers for this year's parade. They won second place in the competitive independent walking group category, edging out the ever-popular Lawn Chair Ladies. (Enterprise photo — Lou Reuter
Heh heh heh. Let that be a lesson to you. Be careful of you might end up like this very foolish looking man who dances with canoe paddles.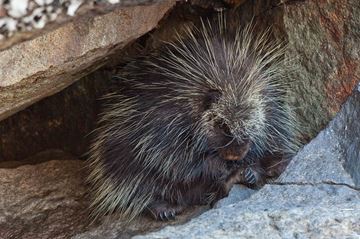 I think it safe to say that everyone knows that beavers live in water, leaving its safety only to forage on land or to sleep inside a lodge. While they eat both aquatic and terrestrial herbaceous plants, through much of the year, especially in winter, much of their diet consists of the bark and twigs of trees, especially poplar.
Beavers aren't alone in their fondness for poplar. In the rodent group, there resides another species that also eats bark, twigs, and opening leaves of poplar. Porcupines eat woody material and, like beavers, possess a long intestinal pouch full of bacteria to digest cellulose. Unlike beavers, however, porcupines don't cut down trees to access meals. They climb trees using their impressive climbing gear: huge claws and rough-skinned feet.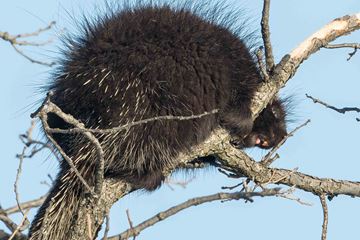 Apart from starvation and falling out of trees, Porcupines face another challenge. Some are shot by humans because they damage trees; others die when they cross highways or stop to glean salt from the asphalt. Porcupines are slow moving animals built for climbing, not running, and thus are prone to being hit by cars. They need not run from predators because they own a powerful defence: modified hairs known as quills.
In the vast history of our natural life, Jon and I have come across only a single porcupine that was hit by a car in the Sierras. Which doesn't mean our paths haven't crossed. I was fascinated to read in Dietland Muller-Swarze book that beavers are the only animal where the female young are recorded to disperse greater distances than the males – except for one other. You guessed it, the porcupine. As winter is a great time for spotting them keep your eyes pealed for these "Tree Beavers".
But there is one silly image out there that is soo foolish I can't even bring my self to write about it at all. Even if I did, I'm sure you know every single thing I would be likely to say. If you've spent any time on this website at all you'll know IMMEDIATELY where this is. And if you're new I'll give you a clue. It starts with a "B".