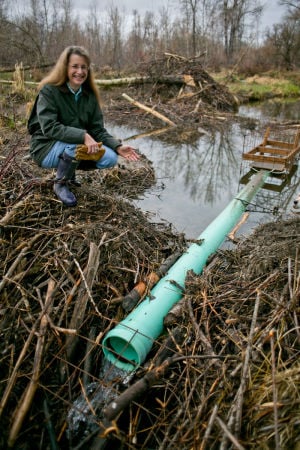 Last Sunday, a handful of people started removing part of a beaver dam from a ditch near Four Corners.  But they didn't destroy the dam. Instead, they took a notch out of the middle and inserted a large plastic pipe, which has restored the water flow down the ditch to the Gallatin River but leaves enough water for beavers to swim in.
"The normal practice is to blow up dams, but even after you do, the beavers come back," said landowner Bob Judd.
That's a landowner from Montana, where beaver advocacy isn't exactly a regular occurrence. In fact the first 5 comments I read on the article were excitedly saying how much beavers needed killing. Never mind. There are clearly some forward thinkers in the state.
Fortunately for the animals, the ditch passes through the property of Judd and his wife, Kathryn Kelly, who wanted to keep the beavers around.  The beaver dam has created wetlands on their 500-acre property that animals and birds are flocking to, Kelly said. Plus the standing water helps maintain groundwater levels and provides safe habitat for young trout.
So this winter, Kelly proposed the plastic pipe solution to the ditch company board.  She spoke from experience. Last summer, she and Judd spent time in Maine observing beaver guru Skip Lisle of Vermont install flow devices to counteract beaver dams. Such devices have been used on the East Coast for about 25 years.
Skip! Nice to see your excellent work literally stretches from coast to coast! Well, lots of folks saw his handiwork in Martinez too! I love when good news about beavers gets broadcast to a new audience. We just need some newbies in the installation biz. The next generation who will allow cities to live with beaver for the next 50 years. Any hope on that front?
Beavers naturally repair any holes in their dams or lodges, so if people tear them down, the animals will return to rebuild. Similarly if a simple pipe is stuck through the dam, beavers will find it and plug it, said Amy Chadwick, a pupil of Lisle who works at Great West Engineering and designed the flow device.
But if the pipe end extends 15 feet or farther upstream from the dam and is surrounded by a wire cage, the beavers don't know to plug it and couldn't if they tried.  Sometimes, such pipe structures are called "beaver deceivers," although Chadwick said that name technically applies only to pipes going through culverts or ditches, per inventor Skip Lisle's definition.
On Sunday, Chadwick joined Jeff Burrell of the Wildlife Conservation Society to help Judd and Kelly install their pipe. Each device has to be tailored to the specific dam, so it's best to get an expert opinion.
Amy! Not sure whether pupil just means 'I read about what Skip does' or actually worked with him….but yesterday when I excitedly wrote her congratulations she wrote back anxiously saying that Skip might get annoyed because she was misquoted calling the pipe a beaver deceiver. Hahaha! She MUST have worked with Skip directly, I decided, because much like Adam himself, he is very concerned these things get the right names.
Amy introduced herself at the beaver conference this year after I presented, so we're going to need to remember this name. And in the meantime celebrate a new flow device in Montana. It's success is sure to change hearts and minds, which will definitely change the lives of beavers and the many species who depend on them.
Speaking of which, I just got an email this morning from a research assistant of Glynnis Hood working with her to show the cost effectiveness of flow devices. She wanted names of everyone who does this work so (in addition to many others) of course I introduced them to Amy! ________________________________________________________
No kit sighting last night. Cheryl was in attendance and her patience was rewarded only with a tail slap. We'll be back again tonight, because tiny beavers deserve a photo shoot!